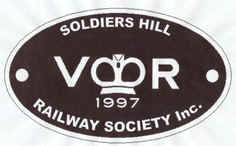 Registration No. A0035537B (Victoria)
Ballarat - Victoria - Australia
The Soldiers Hill Railway Society Inc. is a Ballarat (Victoria, Australia) based non-profit association that aims to assist the fundraising effort for major railway preservation projects in the Ballarat region.
Telephone: 03-5331 1757 (Australia)
or +61 3 5331 1757 (International)

Facsimile: 03-5460 5284 (Australia)
or +61 3 5460 5284 (International)

E-Mail: soldiers@netconnect.com.au

Post:
Box 1022 Ballarat Mail Centre Vic 3354
The 21st Sunraysia Jazz and Wine Festival gets underway in the evening of Friday the 3rd of November, 2000.
One way of being sure that you get to Mildura is to take the train. Normally this method of transport to Mildura is generally unavailable, but a "Special" passenger train organised by the Soldier's Hill Railway Society (Inc) is schedule to depart Spencer Street at 7.00 am bound for an arrival in Mildura at approximately 6.30 pm on this day.
The return journey is scheduled for Monday the 6th of November with a departure of approximately 9.00 am with a mid evening return to Melbourne.
Tour participants will be able to join the tour at-
A formal brochure will soon be available that will give you full details of the train and the festival. If you would like to receive this brochure please submit you name and address using the following form.